If you currently have ageing ATMs, maximize the value of your assets by remanufacturing, upgrading and redeploying them. Insure ATM offers refurbishment of any ATM and component, including major brands as NCR and Diebold Nixdorf.
---
We developed an unique refurbishment technique. We make sure that the used ATMs and spare parts are in an excellent condition, have the same features and look as the brand new ones. The mechanical fixes are done in house or external by trained technicians of our partnerships. After thorough inspection, quality checks, re-fitting and re-testing, the renovated products are good substitutes of new ones. They are never sold as new products, they are re-labelled as refurbished units, even they are mechanically good-as-new. Also upgrades are carried out to the highest level by the technicians, e.g. card readers, dispensers, EPP keyboards etc. A refurbishment process is mostly inclusive a cosmetic restoration. The products are painted in the way our customers require.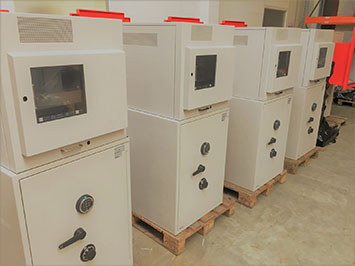 PREMIUM VALUE FOR MONEY
When you need ATMs, spare parts and modules, we know that quality and price are your priority. By knowledge increasing of the industry and by continuously developing our global resources and assets, we aim to become the supplier of premium and profitable solutions for your business. Our policy is to constantly improve all aspects of the business to ensure that our products meet our customer's expectations and requirements.
Save money. Our refurbishments meet their equivalent specifications and exact expectations and, very important, are offered for excellent prices. Our ATM refurbishment service is designed to supply the ATM owner with an 'as new' ATM at the fraction of the cost of buying a new machine. We conclude that our restored products are a profitable solution for your capital investments. Insure ATM's aim: reducing costs without reducing quality!
RESPONSIBILITY
We are responsible for the global environment. Among all the considerations another added benefit, refurbishing electronic products are a wonderful way to 'go green'! In a world that is struggling with environmental responsibilities, we are resorting to recycle than dump ATM-related waste and cut losses through refurbishing products.
Let us help to extend the lifecycle of your ATM fleet, for extra information please feel free to contact us to learn more!